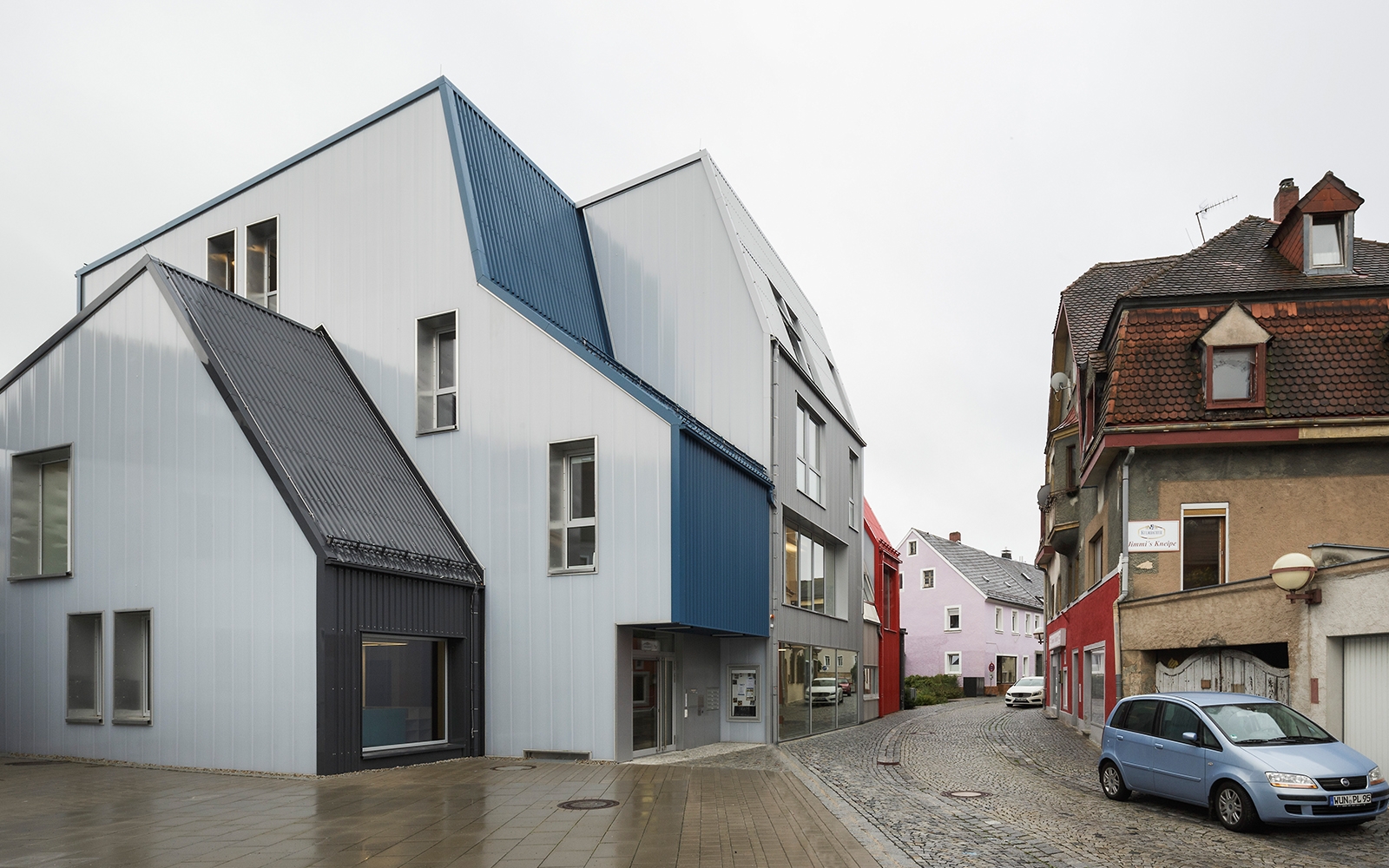 Jugendzentrum & Jugendhotel in Selb, Germany (Youth Club & Hostel)

Date:
2008 – 2015
Status:
Europan 9 Implementation. 1st Prize E9 Selb International Competition
Category:
Europan 9 Selb, Urban Regeneration, Mixed-use, Facility, Completed
Tags:
Europan 9 Selb, Jugendzentrum & Jugendhotel, Youth Club & Hostel, Centro Juvenil y Albergue, Urban Regeneration, Urban Acupuncture
Credits
Client: City of Selb (Stadt Selb)
Location: Karl-Marx Strasse 6-8. Selb. Germany.
Program: Youth Club, Youth Hostel, Intergenerational Centre
Area: 2.300,00 m2
Budget: 5.088.600,00€
Architecture: Gutiérrez-delaFuente, TallerDE2
Local Partner: SelbWERK GmbH, Helmut Resch
Structure: Ingenieurbüro Schultheiß-Dietel
Installations: Ingenieurbüro Peter Möller
Lighting: Ingenieurbüro Netzel + Rennert
Construction: Karl Roth Baumeister GmbH & Co.KG
Surveyor: SelbWERK GmbH
Photographs: Fernando Alda, Feigfotodesign
A PREVENTIVE ACUPUNCTURE THERAPY FOR THE URBAN REGENERATION OF A SHRINKING CITY
● Europan 9 Implementation: Jugendzentrum & Jugendhotel (Youth Club & Hostel) is the second work of a series of three complete works as implementation of the 1st Prize won in the International Competition Europan 9 in the city of Selb, Germany.
● Urban regeneration: it is part of a global urban strategy whose aim is the reactivation of the center of the shrinking city of Selb by integrating and attracting young population. A Preventive Urban Acupuncture Therapy is proposed, consisting on making small insertions (with big effects) in the existing urban fabric to trigger the inner city regeneration.
● A new typology: Jugendzentrum & Jugendhotel is a hybrid type that merges two programs that formerly were isolated in the urban fabric, bringing infrastructures together and encouraging new social dynamics. It is a shared architecture with an urban role. Local users from the Youth Club will interact with foreign users from the Youth Hostel, and vice versa. It is a platform for action, for sharing knowledge, for social exchange and personal enrichment to happen in a fortuitous way, as everyday life. The flexible stripes system organizes the project into nine specialized programmatic stripes working by addition. Existing urban voids between buildings are filled in, so urban facades become continuous redefining the space of the street in the core of the city. The system is so adaptable that currently many programmatic changes are arising, such as an intergenerational centre or residential units for families in risk of social exclusion.
● Anchoring in the future: Scale and materiality are adapted to the domestic scale of the neighborhood as well as the public use of the building. Integration and differentiation joins together to establish a nice paradox within the Bavarian urban landscape, anchoring the project in the future.