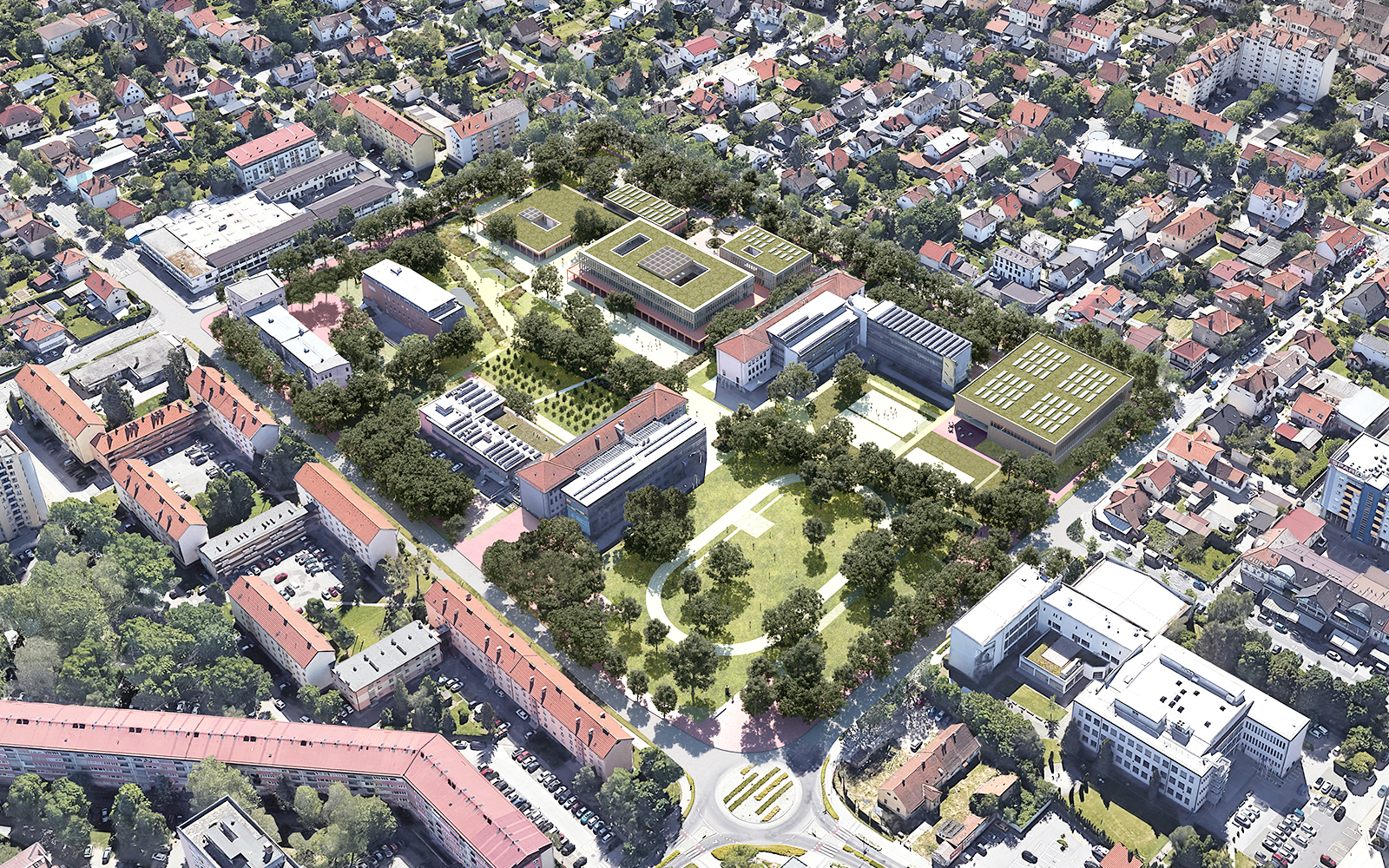 CSGM Educational Campus in Maribor, Slovenia

Date:
2023
Status:
Honourable Mention Competition
Category:
Masterplan, Culture, Facility, Landscape
Tags:
CSGM, Educational Campus, School and Sports Hall, Hearing and Speech Center
Credits
Client: Ministry of Education, Science and Sport of Slovenia
Location: Ljubljanska ulica, Tabor area, Maribor, Slovenia
Program: kindergarten, primary school, health centre, gym, shelter and sports hall. Centre for Hearing and Speech
Competition: Honourable Mention Competition organized by the Chamber of Architecture and Spatial Planning of Slovenia (ZAPS)
Masterplan: 6 Ha
Area: 14.300 m2
Architecture: Gutiérrez-delaFuente Arquitectos + Obrat
Landscape: Vid Bogovič, Ljubljana, Slovenia
Visualizations: Drama
A CARING CAMPUS TO RELAUNCH A MARIBOR SOUTH DISTRICT
● Beyond an educational campus: a caring campus: the Centre for Hearing and Speech Maribor (CSGM) is the central institution in the north-eastern region of Slovenia for deaf and hard-of-hearing children and adults, with speech-language impairments and autistic disorders. The goal of the campus is to create a unique regional centre, which combines pedagogical, special-educational, defectological, medical and, additionally, scientific research activities to better education and training of people with disabilities.
The new CSGM complex combines a kindergarten, a primary school, a health centre, a gym and a shelter. A new sports hall for secondary schools is planned for the use of the campus and the district.
● The Ring, the Park and the Eco-corridor: the campus, a total of 6 Ha, is located in Tabor, which is the central part of Maribor on the right bank of the Drava. The proposal includes a strong territorial and environmental vision for the whole area and the reintegration of existing schools and other residential and commercial buildings. The goal is multiply the sinergies between the arrival of new programs, the existing users and the neighbours.
The campus explores through the project its territorial potential as a pivotal point to reactivate one of the south districts of Maribor. The plot is reconsidered as a crucial component in the north-south chain of perls to relink the main public spaces and identities across the river.
The result is a landscaped urban campus featured by three different habitats: the Ring, the Park and the Eco-corridor. The Ring requalifies the perimeter of the block as a logistic infrastructure, also in reference to the historical character of the plot from 1948. The Park is maintained as a wild park preserving all existing habitats and natural "hidden-treasures". The Eco-corridor reconnects the block with the city as a blue-green device to manage the cycle of water and the consolidation of biodiversity.