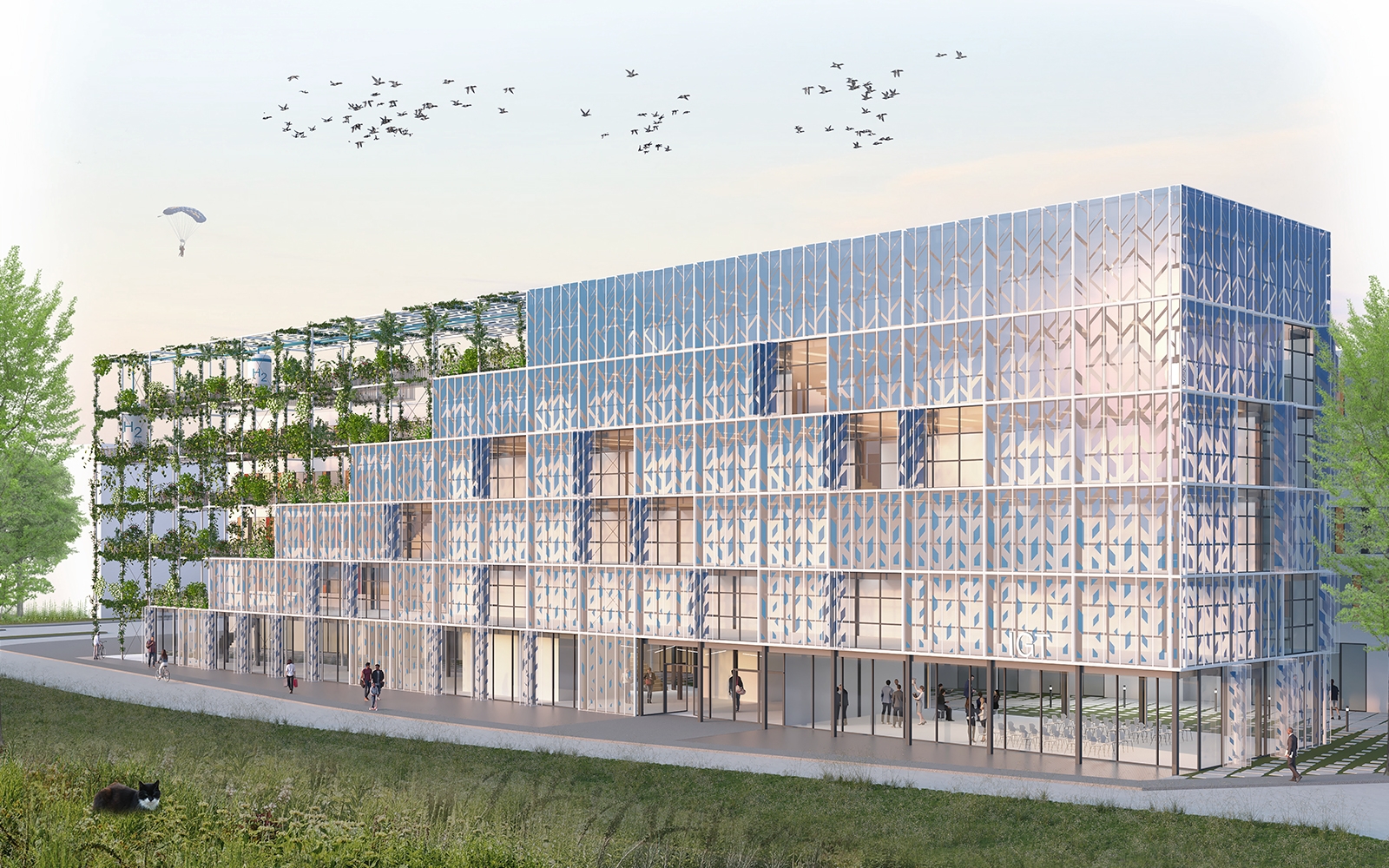 Innovationszentrum Green Tech Mannheim, Germany

Date:
2022
Status:
1st Prize Competition
Category:
Office, Culture
Tags:
Productive city, headquarters, innovation, green and lowtech, clima-neutral
Credits
Client: Stadt Mannheim, Germany
Location: Glückstein Quartier, MAFINEX Center, Mannheim, Germany
Program: office spaces, meeting rooms, conference hall, exhibition area, workshops, and public space
Competition: 1st Prize Competition
Plot Area: 1.920 m2
Total GF Area: 6.250,00 m2
Architecture & Landscape: Gutiérrez-delaFuente Arquitectos + UTA Architekten und Stadtplaner
Competition Team GdlF: Ignacio Cimadevilla, Cristina Infante, Maria Vittoria Tesei
Structure: Holzapfel, Rüdt & Partner HRP, Stuttgart
Facilities: Funk Ingenieure, Winnenden
Klima/energy-concept: Performative Architektur, Stuttgart
AN ANTI-FRAGILITY CONCEPT FOR A LIGHTHOUSE PROJECT
● A lighthouse project for Metropolregion Rhein-Neckar: the project for the New Innovationszentrum Green Tech in the german city of Mannheim is located at Glückstein Quartier (Lindenhof) and directly connected with the MAFINEX Center for startups. The building is an initiative promoted by the City of Mannheim to develop future-oriented environmental and energy technologies. The program includes flexible office spaces, meeting rooms, conference hall, exhibition area and workshops. The competition task is based on sustainability and climate-neutral construction and operation. The project is a lighthouse example for the Metropolregion Rhein-Neckar "Regionale Wettbewerbsfähigkeit durch Innovation und Nachhaltigkeit − RegioWIN 2030".
● Preserving the quality of the preexistencies:the innovation hub is the pivotal point of a real mixed use district composed of working spaces, residential quartier and the productive area. The extension of MAFINEX opens-up the campus to all citizens and reintegrates the campus within the network of green and public spaces. The extension of MAFINEX preserves the quality and dignity of the existing building. Due to the geometry of the plot, the challenge is ensured the same natural-light conditions for all the offices located in the north façade of the existing building in a close dialogue with the extension. A step-like floorplan and elevation promote this democratic approach in terms of light and ventilation.
● An anti-fragility concept: the new Innovationzentrum is as flexible as possible following the notion of anti-fragility, beyond robustness. An anti-fragil system is the one what is stronger when suffers changes and adaptations. The working and producing spaces are open and big spaces, free of pillars and installations structured in potential modules of 25m2. This containers are activated by a stripe of services, communications and shared spaces for casual encounters and relations. The construction of this framework is based on a cradle-to-cradle principle as a detachable low-tech system.
● Micro-climate, biodiversity and water cycles: beyond its architectural mission of the building, it is able to create a micro climate improving the conditions on the surroundings. Micro climate conditions are created on the in-between space and in the terraced garten: the new Glückstein-Valley!. This elevated garten is could be open to public having a social impact in the neighbourhood. The terraced garten articulates new complicities between users of the building and neighbours. The new Glückstein-Valley is a composed of a collection of micro habitats for infiltrating biodiversity. Every terrace of the valley is focused on a different habitat for regulator agents of urban biodiversity: the bee garten, the birds terrace, the butterflies belvedere, the insects and spiders balcony or the amphibians pond. Evapotranspiration and regulation of humidity is managed as part of the water cycle in favour of this micro climate. Full water management is integrated in the building. Rain water is retained in the roof and storage in a tank to be reinfiltrate into the gardens and the toilets, together with the recycled grey water.