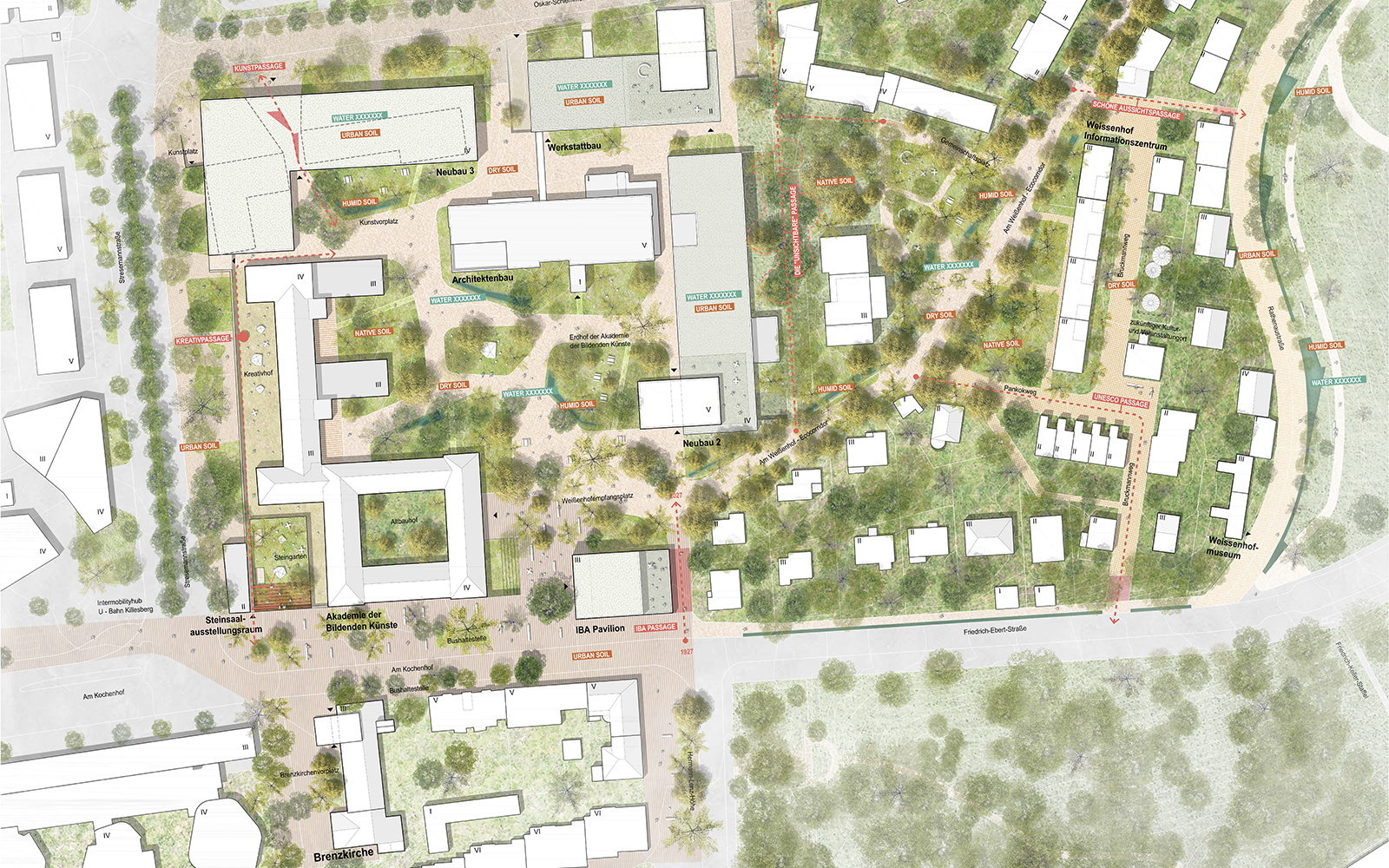 Weissenhof 2027 IBA'27 Stuttgart, Germany

Date:
2022
Status:
3rd Prize International Urban Planning Competition
Category:
Culture, Masterplan, Mixed-use, Landscape, Urban Regeneration
Tags:
IBA 2027 Stuttgart, Weissenhofsiedlung, Caring city, climate-proof
Credits
Client: Stadt Stuttgart and the state of Baden-Württemberg in cooperation with the IBA 2027 StadtRegion Stuttgart, Germany
Location: Weissenhof, Stuttgart, Germany
Program: masterplan, mixed use quartier, landscape and public space. ABK extension, IBA Pavilion, Bruckmannweg plot and Brenzkirche
Competition: 3rd Prize IBA 27 International Urban Planning Competition
Plot Area: 81.000 m2
Total GF Area: 13.000,00 m2
Architecture & Landscape: Gutiérrez-delaFuente Arquitectos + UTA Architekten und Stadtplaner
Competition Team GdlF: Maria Vittoria Tesei, Nicole Pelger
Competition Team UTA: Martina Musacchio
Biologist Consultant: Michele Dinies
A NEW VISION FOR WEISSENHOF 2027 FROM A CARING PERSPECTIVE
● Weissenhof 2027, a future oriented vision: In 2027, the Weissenhof Estate in Stuttgart will be 100 years old. The famous estate includes 21 houses, built for the Deutscher Werkbund exhibition in 1927 under the artistic guidance of Mies van der Rohe. Two houses of Le Corbusier are now part of the World Heritage Site. This upcoming anniversary sets the base for the International Building Exhibition 2027. After a century of architectural and urban history, this competition offers the opportunity to rethink the built testimonies of modernism and to advance the urban design at Weissenhof with a contemporary model.
● "… an environment in the process to be reinvented": Félix Guattari provided us with this quote in "The Three Ecologies" more than thirty years ago. Now, Weissenhof 2027 is an opportunity to think together about a post-anthropocene vision of our territories from a Caring perspective including all living-beings. The project establishes a new hierarchy of needs as a basis for planning: biodiversity, health, ecosystems, air, water, or soil. The turning point of this shift is focused on the regeneration of soils as invisible treasures for a better territorial metabolism and biodiversity, as a starting point for the revalorization of existing resources and synergies in between everyday aspects for a smooth cohabitation. Time appears as a crucial resource for an inclusive and climate-proof district.
● A territorial approach at operational level: the identity of Weissenhof is relaunched and enlarged as a living and networked neighbourhood beyond UNESCO heritage with multifunctional physical and social spaces. The identity of the site is diverse and multiple, composed by different identities together with a sequence of synergies organized around the proposed spatial framework -the hardware-, that should be supported by a curated process -the orgware- (IBA, local and metropolitan agencies) to implement a cohabitation program -the software-.
This process of transformation is anchored in the territorial scale. One of the main ideas is to reconnect the area with an upper level of the Stuttgart metabolism with the transformation of "Am Weissenhof" into a new territorial eco-corridor, able to articulate the constellation of landscapes and micro-habitats. A new mobility concept supports this strategy.
At architectural level, four main interventions were planned: the extension of the ABK institution (reuse of existing structures-circularity), the new IBA Pavilion as a new urban gate, a temporary oriented program at Bruckmannweg 10, and a new vision for the emblematic Brenzkirche.