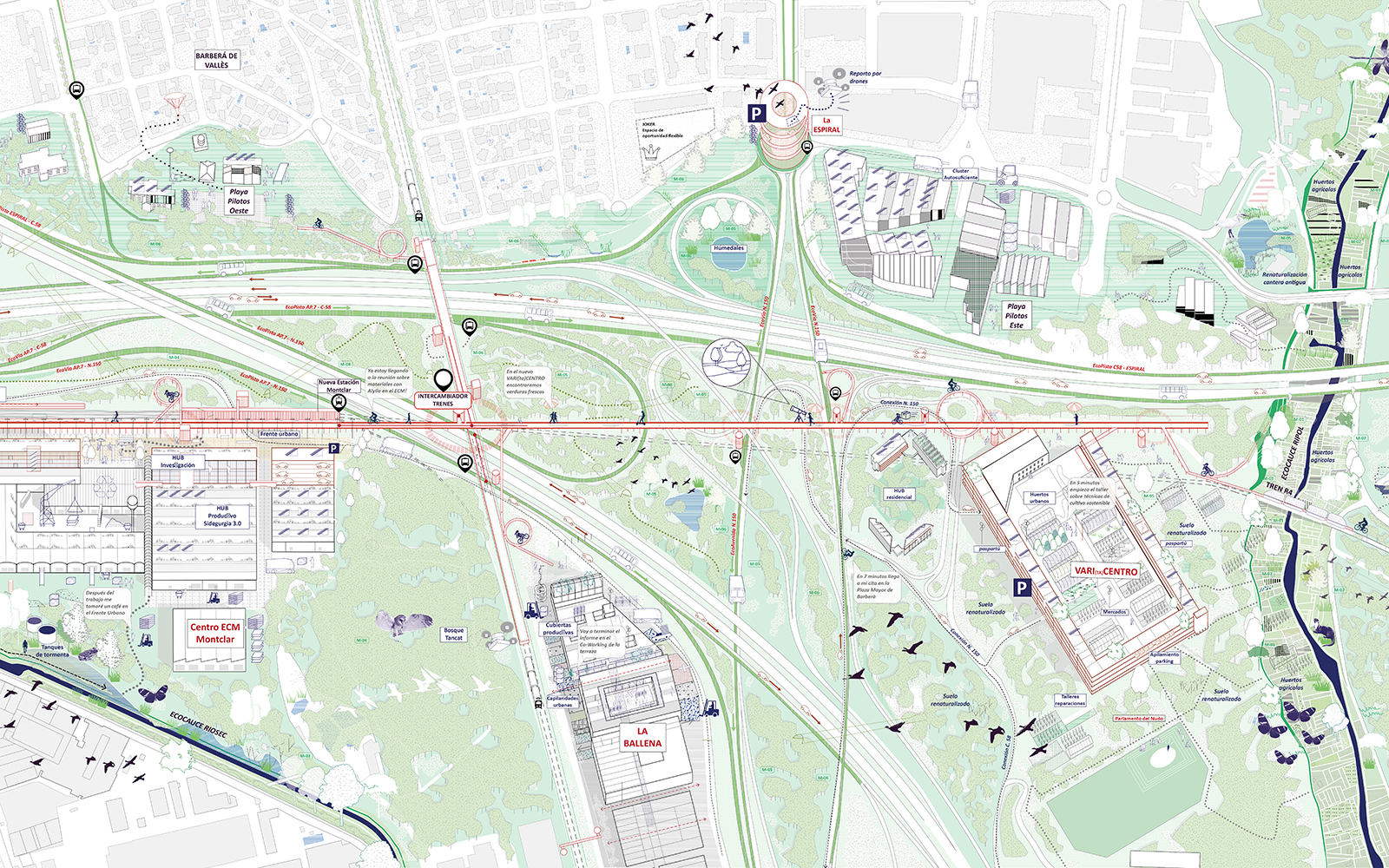 AMB Nodes and Crossings, Spain

Date:
2021
Status:
3rd Prize Competition
Category:
Masterplan, Landscape, Urban Regeneration
Tags:
AMB, future of infrastructures, Barcelona urban strategy, landscape, mobility, decarbonization
Credits
Client: AMB (Barcelona Metropolitan Area), Spain
Location: Site 03: Ripollet, Cerdanyola, Barberà and Badía del Vallés
Program: strategic metropolitan vision of the future of the AMB infrastructures including the valorization of the cultural landscape, the reinforcement of the water networks, the promotion of productive landscapes, space for nature and reforestation, and the implementation of a green infrastructure within the new planned developments
Competition: 3rd Prize 2-stage International Competition Nodes and Crossings, the Future of Infrastructures
Area: Metropoplitan junction of the the N-150, C-58, AP-7 and railway lines
Urbanism & Landscape: Gutiérrez-delaFuente + StudioVlayStreeruwitz (Vienna)
Competition Team GdlF: Carmen Crespo, Cristina Infante, Marta Kayser, Maria Vittoria Tesei
Competition Team VLST: Ivana Gavranovic, Diego Martínez, Xabier Montilla
Mobility experts: Gea 21 (Grupo de Estudios y Alternativas 21)
Environmental Consultants: Gama Alternativas Medioambientales
AN ®AFFORDABLE INFRASTRUCTURE FOR A NEW INTERMODAL TERRITORY
● The future of the AMB infrastructures: the goal is to redesign the current infrastructures from a realistic stance and adaptable over time, highlighting the spaces occupied by junctions, which is where most of the problems associated to these infrastructures are concentrated. The upcoming Barcelona's Metropolitan Master Plan (PDU) offers a unique opportunity for this project in connection with the Principles of PDU mobility model and new visions of the infrastructures of the next decades, understanding space is a valued asset, where private mobility and public transport must coexist, while continuities must be ensure for active mobility and the connectivity of natural spaces.
SITE 03 includes one of the biggest infrastructures crossing at the scale of the Barcelona Metropolitan Area, at the junction of the the N-150, C-58, AP-7 and railway lines between Ripollet, Cerdanyola, Barberà and Badía del Vallés.
● A new environmental paradigm of the XXI century: "ECO-RED.or.ES" proposal follows a new environmental paradigm of the XXI century focused on the "rediscovering" of the preexistencies. Three different operational devices are able, working together, to reintegrate these preexistences in the transformation process supported by a new mobility scenario.
(01) The SUPER-SPONGE reduces emissions and carbon footprint, relaunches biodiversity, improves public space conditions and accessibility, transforming the mobility system in a (02) ECO-CORRIDORS NETWORK which is able to intensify the intermodality of the (03) SUPERNODE, establishing a new resilient landscape: a Post-nature Reserve.
This "Grand Repair" operation is planned as a 3 decades open-process. The trigger is the VARITA MÁGICA, a soft, light, cheap, intermodal and red coloured magic stick that starts a new concept of ®Affordable Infrastructures: maximum effects with minimum resources!