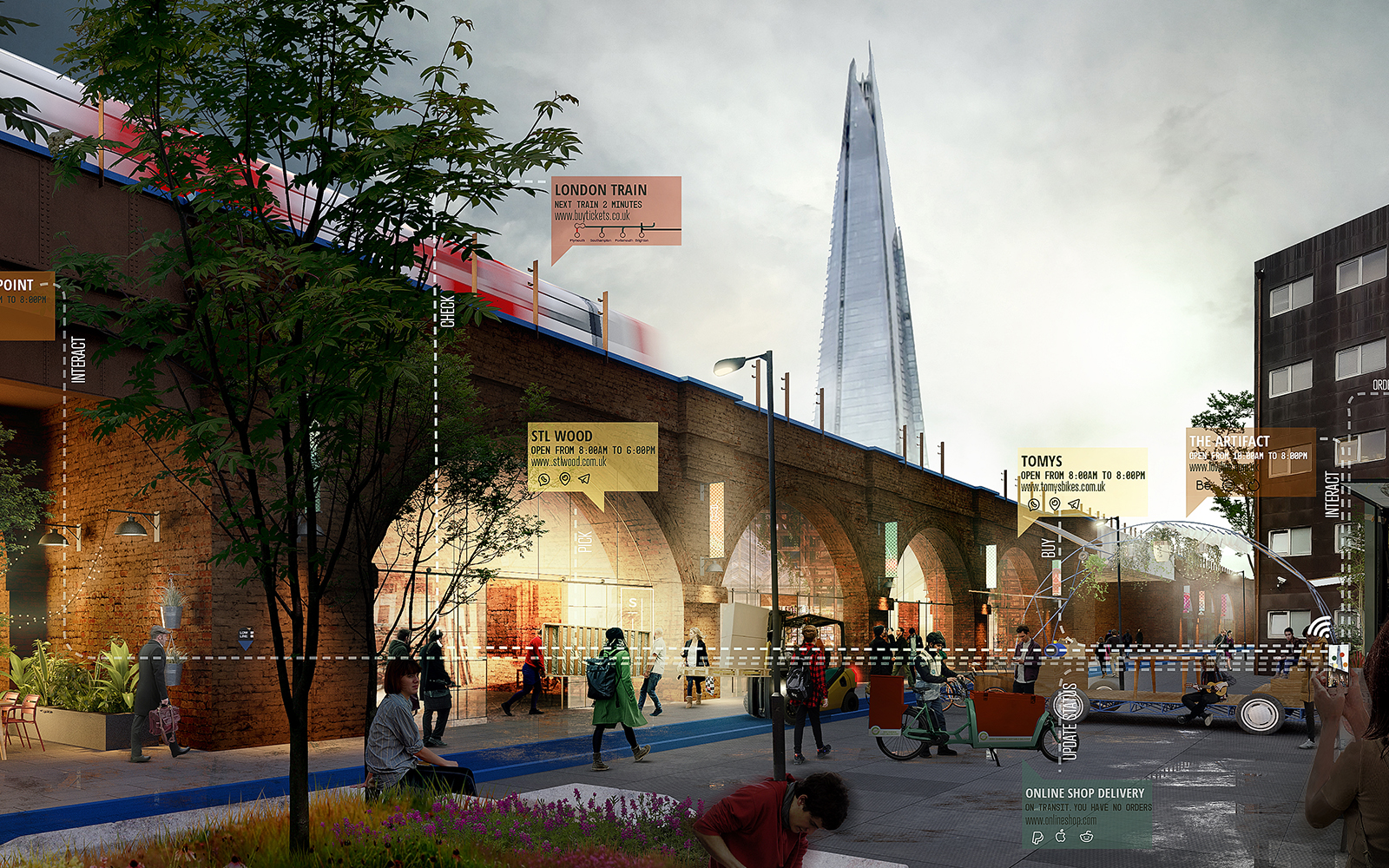 Low Line London, UK (Shortlisted RIBA Competition)

Date:
2019
Status:
Shortlisted, two stages RIBA International Ideas Competition for a Green and Creative Vision for the Low Line London, UK
Category:
Urban Regeneration, Conversion, Landscape, Mixed-Use
Tags:
RIBA Competition, Low Line London, A Circular Low Line, Infrastructure London
Credits
Client: Greater London, Low Line London
Location: Low Line, London (Bankside, London Bridge and Bermondsey). United Kingdom
Competition: Shortlisted, Two stages RIBA International Ideas Competition for a Green and Creative Vision for the Low Line London, UK. G-dlF was one of the 5 firms selected out of more than 82 submissions from across the world including entries from 32 different countries.
Site Area: 8 KM Railway Viaducts
Architecture: Gutiérrez-delaFuente Arquitectos
Consultant: BAC Engineering Consultancy Group
Collaborators: Sergio Floriano, Cristina Infante, Mauro Zevallos
Visualizations: Drama
A CIRCULAR LOW LINE
● A Circular Low Line: the proposal is a Circular and Productive scheme to stop the gentrification phenomena that these kind of urban regenerations entail. The plan explores the paradox of creating a Circular environment along a linear infrastructure to preserve the local values and the social agenda of the existing communities, as well as a world-class walkway is created. The circular environments work as a sequence of different circular loops, at different scales and realms, from ecological aspects to economic and social issues. Biodiversity and sustainability are the drivers of these multiple loops.
The Low Line competition is inspired by New York's High Line as a linear regeneration of a series of underused 19th-century elevated Victorian railway viaducts across South London, running through Bankside, London Bridge and Bermondsey. Low Line will offer a continuous walking route along the base of the viaduct, which will be unlocked incrementally over time. The Low Line partnership has evolved with funding from the Greater London Authority's Good Growth Fund which is the Mayor of London's £70 million regeneration programme to support growth and community development in London.
● An Action Plan for the South of London: the scheme is developed at three different scales. An Action Plan (A) works at the scale of the city and the whole Low Line. The plan is connected with four detailed Case Studies (B) (Holyrood, Ewer, America, Bombay) through an operational system. The Low Line System (C) is the bond between both scales, the macro and the micro, an urban mediator between circular loops. The System is a generic device to answer to the specific places.
The Low Line action plan is based on six strategies working together and transversally: (1) Transversal Identities: invisible opportunities to bring back together different urban fragments, (2) High Connectivity Areas: prime locations become social protected areas, (3) Urban Porosity: the permeable city and the green passages, (4) The Productive City: a circular environment to avoid gentrification, (5) LLPSS_Low Line Productive Service Stations: innovative urban typologies for the 21st century, (6) Biodiversity, humans and non-humans: Nature & Water management_SuDS: a natural interface between the river, the Low Line and the southern districts.