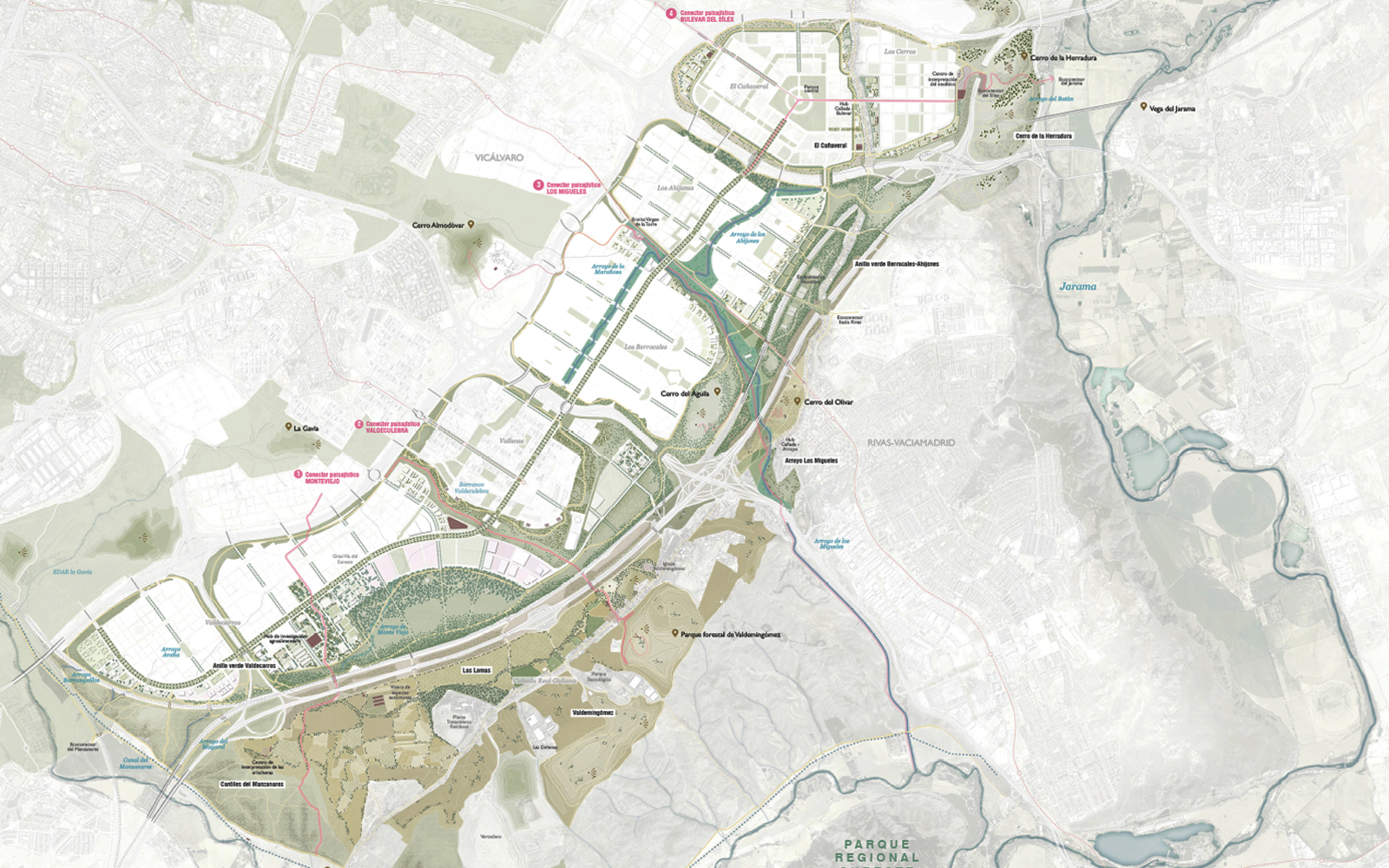 Madrid Bosque Metropolitano, Spain

Date:
2020
Status:
2nd Prize Competition
Category:
Masterplan, Landscape, Urban Regeneration
Tags:
Bosque Metropolitano, green belt, Madrid urban strategy, landscape competition, decarbonization
Credits
Client: City of Madrid (Área de Desarrollo Urbano), Spain
Location: Bosque Metropolitano, Site 03 "El Anillo Verde del Sureste", south-east of Madrid
Program: strategic landscape vision including the valorization of the cultural landscape, the reinforcement of the water networks, the promotion of productive landscapes, space for nature and reforestation, and the implementation of green infrastructure within the new planned developments
Competition: 2nd Prize International Competition
Area: 3.078 hectare included in the forest beltway of 75 km encircling the city
Urbanism & Landscape: Gutiérrez-delaFuente + BUUR (Leuven, Ghent, Brussels)
Competition Team GdlF: Sergio Floriano, Daniel Guerra, Cristina Infante, Marta Kayser, Adrián Pobo, Jennyfher Alvarado
Competition Team BUUR: Kevin Penalva, Eva Recio, Diego Luna, Jonas Vanneste, Katerina Dimadi, Anna Cavallero, Mikel García
Biologists/Biodiversity: Terra Ecogest (Terracentro), Carlos Sunyer and Lola Manteiga, Madrid, Spain
Civil Engineer: Jacinto Ruiz
Documentary Photographer: Urban Reports, Davide Curatola
Land Surveyor: Pedro Antonio Cabezudo
Video: De Cerro a Cerro – Madrid Bosque Metropolitano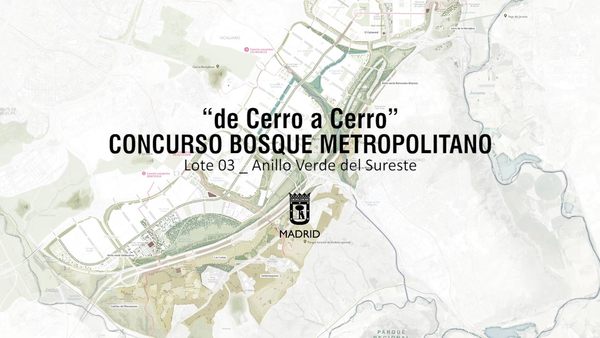 A NEW CULTURAL AND ENVIRONMENTAL VISION AT THE SOUTH-EAST OF MADRID
● A 75 km forest beltway to decarbonize Madrid Metropolitan Area: the Bosque Metropolitano of Madrid (Madrid metropolitan green belt) is one of the largest and most ambitious landscape projects in Europe at the moment and is one of a number of varied strategies the City Council of Madrid is implementing in order to address the climate crisis. A project promoted by the Área de Desarrollo Urbano of the City of Madrid that will give shape to a new green infrastructure on a municipal level, with forest beltway of 75 km encircling the city. A project which aims to restore the ecology of degraded areas, bring new qualities to the suburban neighborhoods, and to decarbonize the metropolitan area via mass reforestations.
The Site 03, with 3.078 hectare, includes the segment located at the south-east of Madrid. An area where several planned urban developments' meet an arid and mistreated open landscape including queries, informal settlements, waste treatment plants, and a vast eroded landscape.
● A new and complex ecosystem anchored to the local soil conditions: the proposal "de Cerro a Cerro" develops a strategic landscape vision for the site, and its integration with the context via a set of spatial strategies including the valorization of the cultural landscape as a ping-pong of "cerros" (hills) and heritage objet-trouvé, the reinforcement of the water networks (water-eco-corridors and landscape integration of the stationary streams), the promotion of productive landscapes and a green economy based on principles of circularity and proximity, the creation of space for nature and reforestation adapted to each landscape entity. Also, one of the main goals is the implementation of a green infrastructure within the new planned developments (PAUs) as a future oriented ambition.