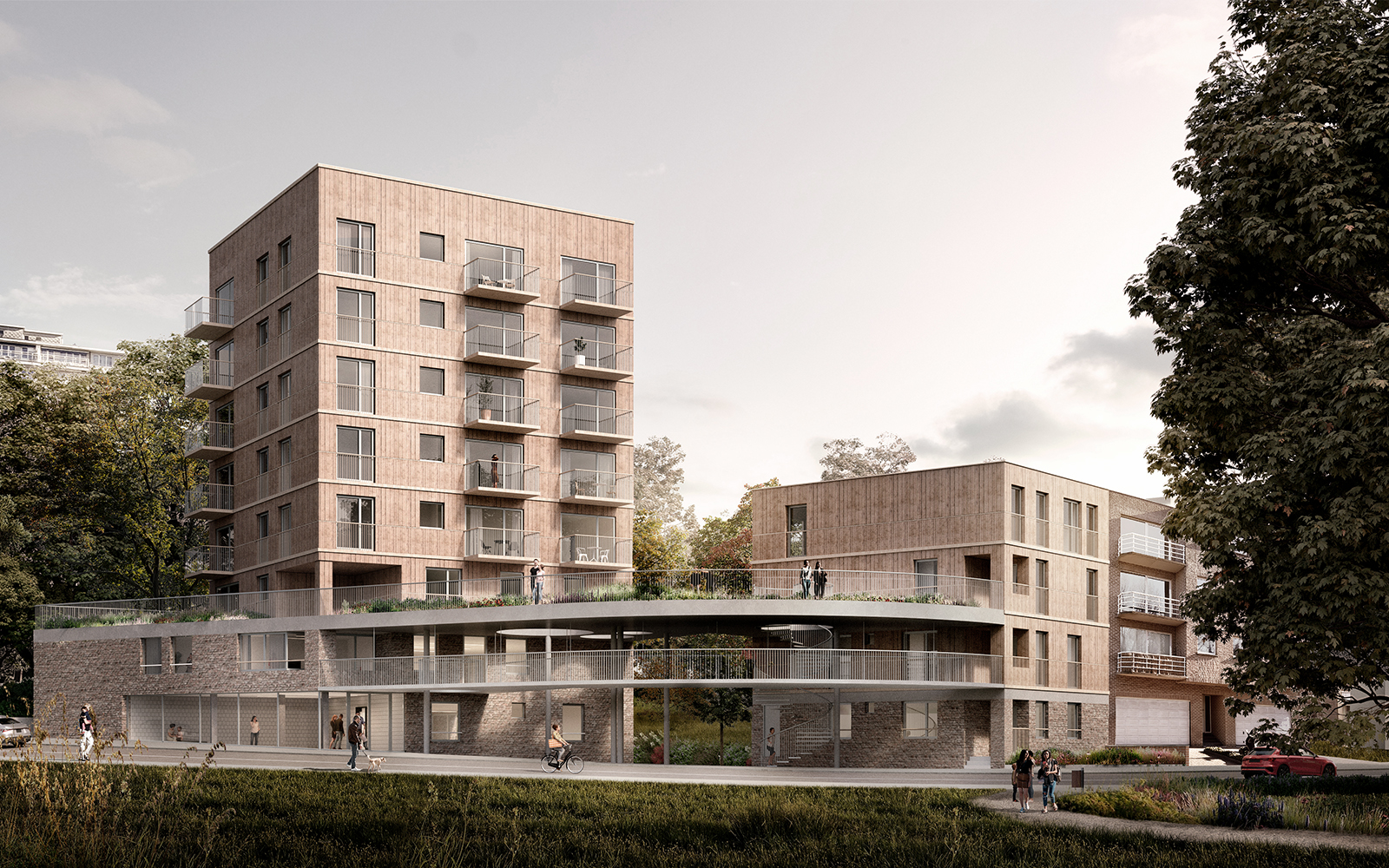 Azur Social Housing in Brussels, Belgium

Date:
2022/-
Status:
Work in progress. 1st Prize Competition
Category:
In progress, Residential, Landscape
Tags:
Social housing, Water cycle, Biodiversity, Brussels, Competition Belgium, BMA, Comensia
Credits
Client: Comensia (social housing cooperative), Brussels. Belgium
Location: rue de l'Azur / Azuurstraat 33, 1082 Berchem-Sainte-Agathe, Brussels. Belgium
Program: 26 social housing units, common facilities and landscape
Competition: 1st Prize Competition organized by the BMA Bouwmeester of the Brussels-Capital Region
Area: 3.060,00 m²
Architecture: Gutiérrez-delaFuente Arquitectos + MAKER Architecten
Collaborators GdlF: Teresa Castillo, Cristina Infante
Collaborators MAKER: Simon Walgraeve, Michelle Anliker, Laure Bouckenooghe
Structure: Mouton, Ghent, Belgium
Installation: Cenergie, Antwerpen, Belgium
Energy: Groep Dirk De Groof (EPB), Putte, Belgium
Acoustics: PS-Acoustics, Sint-Truiden, Belgium
Landscape: Kollektif landscape, Ghent, Belgium
Visualizations: Drama
EXPLORING THE ECOLOGICAL POTENTIAL OF THE IN-BETWEEN SPACES
● Beyond a social housing project: Comensia, a social and cooperative enterprise for tenants, developes 26 social housing units on rue de l'Azur in Berchem-Sainte-Agathe. This is an interesting challenge given the size of the plot and the angle it forms on the street. The project is located between the Berchem-Sainte-Agathe sports complex and the residential area along Avenue du Roi Albert, marked by the presence of large residential buildings and smaller three and four-storey housing units. A meeting point between the compact city and the modernist one.
The main goal is to create an exemplary sustainable and environmentally-friendly building, with special attention paid to integrating the project into the area and into its surrounding landscape. The proposal has to provide a high degree of diversity and a collective identity, fostering a feeling of connection to the place and between all the future inhabitants (humans and non-humans).
● Caring of natural -existing- resources: the proposed scheme is able to consolidate the space of the street and the curve of the plot at the same time than creates a connection between the two main neighbouring landscape habitats. The split of the 26 housing units in two independent volumens makes possible to keep the conecction between the plot and the existing green-blue ecocorridor. The proposal realunch the hidden ecological quailities of the surroundings.
Azur project is an example of a climate-proof design oriented social housing development and how to improve the confort and the ecological conditions at territorial scale form an architecture-landscape medium scale. Caring of the cycle of water, biodiversity and soil is as one of the main challenges. The project also works as a transcalar mediator in between the compact city and the modernist one. New synergies are established with other Comensia residential buildings in the area, including new social dynamics and promoting a new mobility model.